Semicon India-2022: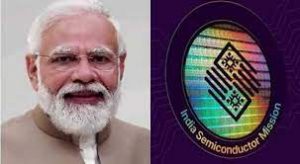 Prime Minister Narendra Modi will inaugurate the first ever Semicon India-2022 Conference on 29th of April in Bengaluru.
Semicon India-2022 Conference will be organised by Ministry of Electronics and Information Technology from 29th of April to 1st of May around theme of – Design and Manufacture in India, for the World: Making India a Semiconductor Nation.
Semicon India – 2022 aims to make India a significant player in Global Semiconductor value chain.
Semicon India-2022 conference will attract best minds from across the world from semiconductor industry, research and academia and will act as a big step in fulfilling PM's vision on making India a global hub for electronics manufacturing and Semiconductor industry.