Invictus Games 2022: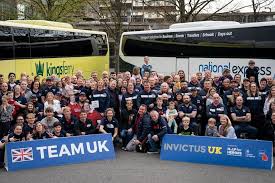 The 2022 edition of the Invictus Games opened on April 16 night in The Hague, Netherlands, where Prince Harry paid tribute to the Ukrainian team. The Games are scheduled to run until April 22.
The first edition of the Games was held in London in 2014, and subsequent competitions were organised in Orlando, US (2016), Toronto, Canada (2017), and Sydney, Australia (2018).
The 2023 edition will be held in Dusseldorf, Germany.
The Games are an international sporting competition similar to the Paralympics, but meant for wounded, injured, and sick military service personnel and war veterans.
The word 'invictus' means 'unconquered'.
The Games draw inspiration from the British poet William Ernest Henley's 1875 poem 'Invictus'.
The Invictus Games are the brainchild of Prince Harry, Duke of Sussex, who attended the Warrior Games in the United States in 2013, and wanted to start something similar in London.