Short Span Bridging System (SSBS)-10 m: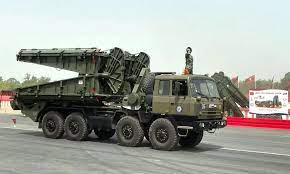 The first production lot of 12 Short Span Bridging System (SSBS)-10 m, designed and developed by Defence Research and Development Organisation (DRDO), has been inducted into Indian Army.
The SSBS-10 m plays a crucial role of bridging the gaps up to 9.5 m as a single span providing a 4 m wide, fully decked roadway, ensuring faster movement of the troops.
Research & Development Establishment (Engrs) Pune, a premier engineering laboratory of DRDO, has designed and developed the system in association with M/s L&T Ltd.
The 12 bridges are part of 102 SSBS-10 m from M/s L&T Ltd, which is the production agency.
The Project Short Span Bridging System involved the development of two prototypes of 5 m SSBS on Tatra 6×6 chassis and another two prototypes of 10 m SSBS on Tatra 8×8 re-engineered chassis.
This bridging system is compatible with Sarvatra Bridging System (75 m), where the last span requires covering gaps less than 9.5 m.