SHREYAS Scheme: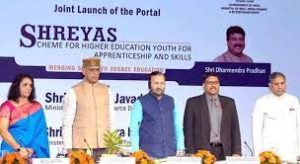 Under the umbrella scheme SHREYAS, from 2014-15 until 2022-23, a total of 1628.89 crore rupees have been released to benefit 21326 beneficiaries.
The Scholarships for Higher Education for Young Achievers Scheme- SHREYAS comprises four central sector sub-schemes.
All these sub-schemes are central sector schemes.
Free Coaching Scheme for SCs and OBCs:

The objective of the Scheme is to provide coaching of good quality for economically disadvantaged Scheduled Castes (SCs) and Other Backward Classes (OBCs) candidates to enable them to appear in competitive and entrance examinations for obtaining appropriate jobs in Public/Private Sector as well as for securing admission in reputed technical and professional higher education institutions.

National Overseas Scheme for SCs:

Under this scheme, financial assistance is provided to the selected students from SCs, De-notified, Nomadic and Semi-Nomadic Tribes, landless agricultural labourers and traditional artisan categories for pursuing masters and Ph.D. level courses abroad.

National Fellowship for SC Students:

Under the scheme, fellowship is provided to Scheduled Castes students for pursuing higher education leading to M.Phil/PhD degrees in Sciences, Humanities and Social Sciences in Indian Universities/Institutions/ Colleges recognisedby the University Grants Commission (UGC).