UN Resident Coordinator For China: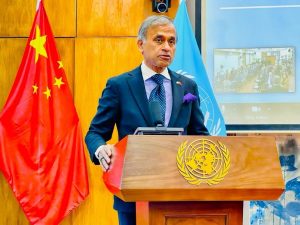 Siddharth Chatterjee, who rose to become the United Nations (UN) Resident Coordinator for China, is currently leading the UN and its 26 agencies in China.
In 2020, UN Secretary-General Antonio Guterres appointed senior UN official Siddharth Chatterjee of India as the UN Resident Coordinator in China.
A National Defence Academy (NDA) graduate and former 10 Para special forces officer, Siddharth Chatterjee fought for the Indian Peace Keeping Force (IPKF) in Sri Lanka and battled insurgencies in Nagaland.
UN Resident Coordinator (RC):
Highest-ranking representative of the UN Development System at the country level.
RCs lead UN Country Teams and coordinate UN support to countries in implementing the 2030 SDG Agenda.
The Resident Coordinator is the designated representative of and reports to the UN Secretary-General.