Sacred Ensembles Of The Hoysalas : UNESCO's World Heritage List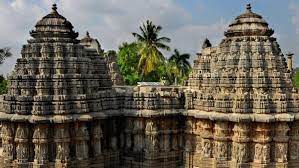 The Sacred Ensembles of the Hoysalas, which include three temples in Karnataka, have been inscribed on UNESCO's World Heritage List.
The Sacred Ensembles of the Hoysalas consist of a collection of Hoysala temples.
These were built in the 12th-13th centuries and are represented here by the three components of Belur, Halebid, and Somnathapura.
The three temples include;

The Chennakeshava temple: It is the main temple in the complex at Belur (Hassan district), located at the centre of the traditional settlement, which is surrounded by the remnants of a mud fort and a moat.
The Hoysaleswara Temple: It is on the banks of the Dwarasamudra tank in Halebidu (Hassan district), a town which has many protected and unprotected temples, archaeological ruins, and mounds.
The Keshava Temple: It is at the centre of Somanathapura village (Mysore district).
These are primarily dedicated to Hindu deities like Shiva and Vishnu, with some also devoted to the Jain faith.

The Hoysala temples have a basic Dravidian morphology but show strong influences of the Bhumija mode widely used in Central India, the Nagara traditions of northern and western India, and the Karntata-Dravida modes favoured by the Kalyani Chalukyas.