Sikh Gurdwaras Act, 1925 : Amendment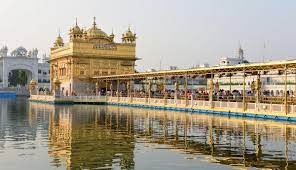 The Punjab Assembly has amended the Sikh Gurdwaras Act, 1925 to allow the broadcast of Gurbani (sacred hymns) from Sri Harmandir Sahib (Golden Temple) to be accessible to all media outlets free of cost.
This move aims to break the alleged monopoly of PTC, a television channel associated with the Shiromani Akali Dal (SAD) party.
The decision has sparked controversy, with the opposition party questioning the Punjab Assembly's authority to amend the Gurdwaras Act without the consent of the Shiromani Gurdwara Parbandhak Committee (SGPC).
The Shiromani Gurdwara Parbandhak Committee est. 1920; HQ: Amritsar is an organization in India responsible for the management of Gurdwaras, Sikh places of worship in the states of Punjab and Himachal Pradesh and the union territory of Chandigarh.
SGPC also administers Darbar Sahib in Amritsar.