PESA Act: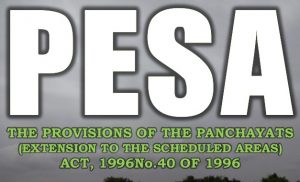 One Day National Conference was organized on the Provisions of the Panchayats (Extension to the Scheduled Areas) Act, 1996 (PESA) to celebrate 25th year of PESA Act, as part of Azadi Ka Amrit Mahotsav.
The Panchayats (Extension to Scheduled Areas) Act, 1996 or PESA Act is a law enacted by the Government of India for ensuring self-governance through traditional Gram Sabhas for people living in the Scheduled Areas of India.
It was enacted by Parliament in 1996 and came into force on 24th December 1996.
The PESA is considered to be the backbone of tribal legislation in India.
PESA recognises the traditional system of the decision-making process and stands for the peoples' self-governance.
To promote local self-governance in rural India, the 73rd constitutional amendment was made in 1992. Through this amendment, a three-tier Panchayati Raj Institution was made into a law.
However, its application to the scheduled and tribal areas under Article 243(M) was restricted.
After the Bhuria Committee recommendations in 1995, Panchayat Extension to Scheduled Areas (PESA) Act 1996 came into existence for ensuring tribal self-rule for people living in scheduled areas of India.
The PESA conferred the absolute powers to Gram Sabha, whereas state legislature has given an advisory role to ensure the proper functioning of Panchayats and Gram Sabhas.
The power delegated to Gram Sabha cannot be curtailed by a higher level, and there shall be independence throughout.