SMILE-75 Initiative: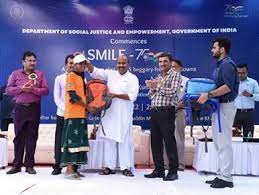 The Ministry of Social Justice & Empowerment has launched the "SMILE-75 Initiative".
SMILE (Support for Marginalized Individuals for Livelihood and Enterprise Scheme) is aimed at making cities/towns and municipal areas begging-free and comprehensive rehabilitation of the persons engaged in the act of begging.
Under the initiative, seventy-five (75) Municipal Corporations in collaboration with NGOs and other stakeholders will cover several comprehensive welfare measures for persons who are engaged in the act of begging.
Measures taken: rehabilitation, provision of medical facilities, counselling, awareness, education, skill development, economic linkages and convergence with other Government welfare programmes etc.
According to the Census 2011 total number of beggars in India is over 4 lakhs.
West Bengal tops the chart followed by Uttar Pradesh and Bihar
Though there is no central law on begging, some states have adopted the Bombay Prevention of Begging Act, 1959, which penalises beggary.