Football4Schools Initiative: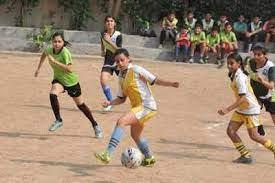 The Ministry of Education has signed an MoU with Federation Internationale de Football Association (FIFA) and All India Football Federation (AIFF) for the 'Football4Schools' initiative in India.
The Football4Schools program is a step towards translating Prime Minister's vision of making sports a way of life as well as creating well-rounded citizens.
It aims to empower 25 million young boys and girls in India through sports-integrated learning.
It espouses the spirit of National Education Policy (NEP), 2020.
Objectives:

Empower learners (boys and girls) with valuable life skills and competencies.
Empower and provide coach-educators with the training to deliver sport and life-skills activities.
Build the capacity of stakeholders (Schools, Member Associations and public authorities) to deliver training in life skills through football.
Strengthen the cooperation between governments and participating schools to enable partnerships, alliances and intersectoral collaboration.