SPRINT Challenges: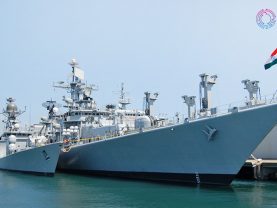 PM unveiled 'SPRINT challenges', an initiative aimed at boosting the usage of indigenous technology in the Indian Navy.
Naval Innovation and Indigenisation Organisation (NIIO) in cooperation with the Defence Innovation Organisation (DIO), aims to induct at least 75 new indigenous technologies/products into the Indian Navy.
The collaborative project is named SPRINT — Supporting Pole-Vaulting in R&D through iDEX (Innovations for Defence Excellence), NIIO and TDAC (Technology Development Acceleration Cell).
The expenditure on defence procurement from foreign sources has reduced from 46% to 36%, thereby reducing the import burden, in the last 3 (three) years i.e. from 2018-19 to 2020-21.
Other initiatives for indigenization of Defence:
Defence Acquisition Procedure 2020: Prioritized capital investment from domestic manufacturers.
New FDI Policy: Preference to 'Buy (Indian)', 'Buy & Make (Indian)' & 'Make' categories of acquisition over 'Buy (Global)'
FDI through automatic approval is increased from 49% to 74%.
E- Biz Portal: A one-stop shop for providing G2B services to investors and business communities.
Mission Raksha Gyanshakti: with the objective of creating greater Intellectual Property in the Defence Production Ecosystem.
Artificial Intelligence in Defence: Creation of Defence Artificial Intelligence Project Agency (DAIPA) in, 2019 for greater thrust on Artificial Intelligence (AI) in Defence.
Strategic Partnership Policy: This is to promote Joint Ventures (JV) between global defence majors and the indigenous private sector.