State Of India's Environment Report 2023: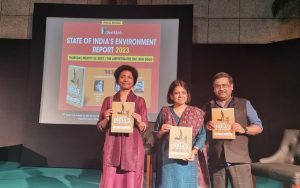 State of India's Environment report 2023 was launched by Centre for Science and Environment (CSE) and DTE (Down to Earth)
Highlights of the Report:
Over 30,000 water bodies have been encroached on in the country and India is generating 150,000 tonnes of Municipal Solid Waste (MSW) every day more than half of which is either dumped in landfills or remains unattended.
Four years and 11 months is the average duration of life lost to air pollution in India.
Rural India is losing more years due to air pollution-related health issues than the urban belt.
Rural India needs 35 % more community health centers.
Environmental crimes continue unabated ,courts need to decide on 245 cases every day to clear the backlog.
Between January and October 2022, India witnessed extreme weather events on 271 days.
These extreme weather events claimed over 2,900 lives.
Over the past five years, India's overall global rank in meeting the United Nations-mandated Sustainable Development Goals (SDGs) has slipped by nine places — ranking 121 in 2022. India ranks below four south Asian countries — Bangladesh, Bhutan, Sri Lanka and Nepal
In agriculture, strong evidence is emerging of the efficacy of traditional and regenerative farming methods.