What Is A Heatwave?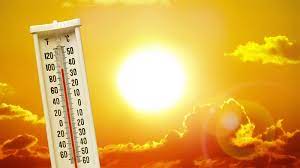 A heatwave has gripped the Vidarbha and Marathwada regions of Maharashtra. This is the fourth heatwave in the last two months, and the second in April. In fact, on April 26, Vidarbha was the hottest region in the country.
Heatwave:
A region is considered to be under the grip of a heatwave if the maximum temperature reaches at least 40 degrees Celsius or more in the plains and at least 30 degrees Celsius or more in hilly regions.
When the maximum temperature departure ranges between 4.5 and 6 degrees, the India Meteorological Department (IMD) declares a heatwave.
A severe heatwave is declared when the recorded maximum temperature of a locality departure from normal is over 6.4 degrees Celsius.
Also, if an area records over 45 degrees and 47 degrees Celsius on any given day, then the IMD declares heatwave and severe heatwave conditions, respectively.
The lack of pre-monsoon showers has also led to an increase in the overall maximum temperature. Maharashtra recorded 63 per cent deficient rainfall from March 1 to April 26.