The Dhannipur Mosque: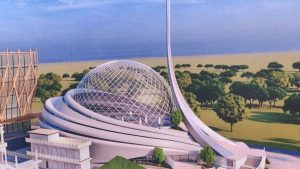 The Dhannipur mosque project was formally launched on Republic Day at the five-acre plot in Dhannipur village of Ayodhya Uttar Pradesh.
The plot was allotted by the Uttar Pradesh government on the directions of the Supreme Court in the Babri Masjid Ram Janmabhoomi title suit.
The Indo-Islamic Cultural Foundation (IICF) is overseeing the construction of the mosque.
The project would take around 30 months to be completed.
The project comprises three parts: a mosque based on a modern design; a multi-speciality 200-bed hospital and community kitchen; and an Indo-Islamic Cultural Research Centre.