The Foreign Contribution (Regulation) Act: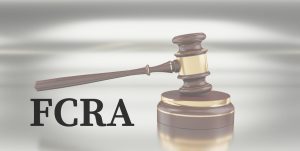 Among the 6,000 NGOs that did not have their FCRA registration renewed by the Ministry of Home Affairs (MHA) recently are also included the Tirumala Tirupati Devasthanams (TTD), the Ramakrishna Mission, and Shirdi's Shri Saibaba Sansthan Trust (SSST).
The Foreign Contribution (Regulation) Act registration is mandatory for any NGO or association to receive foreign funds or donations.
The registration of thousands of NGOs was up for renewal in 2020-21. The Ministry had declined to renew the FCRA registration of 179 NGOs, while 5,789 associations did not apply for a renewal before the December 31 deadline.
After the exercise, the number of active FCRA-registered NGOs is down from 22,762 to 16,907.
FCRA regulates foreign donations and ensures that such contributions do not adversely affect the internal security of the country.
The Act, first enacted in 1976 was amended in the year 2010 and then 2020.
Section 5 of the Foreign Contribution (Regulation) Act, 2010 gives the Union government "unchecked and unbridled powers" to declare an organisation as being one of political nature and deny it access to funds from sources abroad.
FCRA is implemented by the Ministry of Home Affairs.
The provisions of the Act apply to the territory of India, to citizens of India who may be outside India and to companies or their branches outside India that are registered or incorporated in India.
The entities covered by the Act include an individual, a Hindu undivided family, an association, or a registered company.
It implies that to donate to such an NGO, a foreign donor has to take prior clearance from the Ministry of Home Affairs.
The amendments(2020) mandated that registered NGOs open a designated account in the main branch of the State Bank of India in the Capital in which the foreign contributions to their various causes would exclusively land.
The petitioners have argued that this measure would be cumbersome for NGOs operating in rural India and far away from the Capital.
"Foreign contribution" under FCRA covers any "donation, delivery or transfer made by any foreign source of any article" as long as it is not given as a gift for personal use, or if its market value in India at the time it was made is "not more than such sum as may be specified from time to time by the Central government".