Udyami Bharat Programme: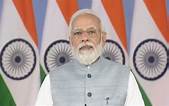 Prime Minister Narendra Modi launches several schemes and programmes at Udyami Bharat Programme in New Delhi.
During the event, Mr Modi launched the Raising and Accelerating MSME Performance (RAMP) Scheme, Capacity Building of First-Time MSME Exporters Scheme and new features of the Prime Minister's Employment Generation Programme PMEGP.
He added that the Centre has increased the budget by more than 650 percent in the last eight years to strengthen the Micro, Small and Medium Enterprises (MSME) sector.
A self-reliant fund of 50 thousand crore rupees has been released for the sector.
The Prime Minister also asked MSMEs to register on the GeM portal for supplying goods to the government.
Modi said the government has decided that for orders up to 200 crore rupees, no global tender will be undertaken and this is in some ways a reservation for the MSMEs.
Under the Emergency Credit Line Guarantee Scheme, the central government has ensured 3.5 lakh crore rupees for the MSMEs.