Eknath Shinde : New Chief Minister Of Maharashtra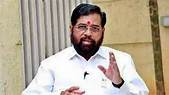 Shivsena rebel leader Eknath Shinde was sworn-in as the new Chief Minister of Maharashtra.
Governor Bhagat Singh Koshyari administered the oath of office to Mr. Shinde. He has become the 20th Chief Minister of the state.
Besides, Mr Shinde, BJP leader Devendra Fadnavis was sworn-in as Deputy Chief Minister.
The trust vote of the new government will be held on Saturday.
The special session of the Assembly will be held on July 2 and 3.
The Speaker will be elected on the first day of the session.
Shinde, who revolted against former Chief Minister Uddhav Thackeray on June 20, was joined by 39 Sena MLAs and 11 Independents.
The rebel MLAs had demanded that Mr. Thackeray quit the tripartite Maha Vikas Aghadi (MVA) and snap ties with the Congress and the Nationalist Congress Party (NCP) to return to the path of Hindutva.