Ujjwala Yojana :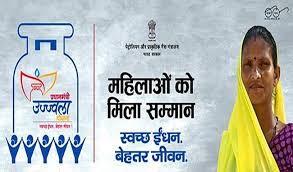 Over 1.5 lakh lives saved in a year, 13% reduction in air pollution deaths
The first independent impact assessment of the Ujjwala programme has highlighted its benefits in terms of saving of lives and reduction in air pollution
Key observations:
Greater penetration and usage of LPG as a cooking fuel is estimated to have prevented at least 1.5 lakh pollution-related premature deaths in the year 2019 alone.
It also avoided at least 8 million tonnes of PM2.5 emissions in 2019 (13% reduction in air pollution deaths)
It had shown a vast improvement not just in prevalence of respiratory diseases but also in general health conditions in villages with high coverage of Ujjwala connections.
The survey had found 50 per cent improvement in general health conditions in villages of Rajasthan, Uttar Pradesh and Bihar with high coverage of Ujjwala connections.
Previously government report had said Three States have become kerosene free. These include- Haryana, Punjab and Andhra Pradesh.
Union Territories that have become kerosene-freeare the Union Territories of Delhi, Chandigarh, Daman & Diu, Dadar & Nagar Haveli, Andaman & Nicobar Island and Puducherry.
Pradhan Mantri Ujjwala Yojana:
Launched in May 2016.
Aim: To provide LPG (liquefied petroleum gas) connections to poor households and reduce health risk associated with burning biomass.
A deposit-free LPG connection is given to eligible with financial assistance of Rs 1,600 per connection by the Centre.
Government data shows that by January 2022, 9 crore new LPG connections had been rolled out under this scheme, and that 99.8 per cent of the over 28 crore households in India now have access to LPG, up from 61.9 per cent in 2015.
Eligibility criteria:
Applicant must a woman above the age of 18 and a citizen of India.
Applicant should belong to a BPL (Below Poverty Line) household.
No one in the applicant's household should own an LPG connection.
The household income of the family, per month, must not exceed a certain limit as defined by the government of the Union Territories and State Government.
Applicant must not be a recipient of other similar schemes provided by the government.