India's First Hydrogen Powered Fuel Cell Electric Car Project: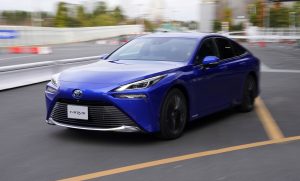 Union Ministry for Road Transport and Highways, Nitin Gadkari inaugurated a pilot project for Hydrogen-based advanced Fuel Cell Electric Vehicle (FCEV).
Toyota Kirloskar Motor Pvt. Ltd. along with International Center for Automotive Technology (ICAT) initiated this Pilot project to study and evaluate the world's most advanced FCEV Toyota Mirai which runs on hydrogen, on Indian roads and climatic conditions.
The aim is to spread awareness regarding Hydrogen, Fuel Cell Electric Vehicle (FCEV) technology, and disseminate the benefits to support a hydrogen-based ecosystem.
Fuel Cell Electric Vehicle (FCEV) is powered by hydrogen.
FCEV is environment-friendly, as it has zero tailpipe emissions. Thus it is one of the best zero-emission solutions.