UN Security Council : Presidency Of India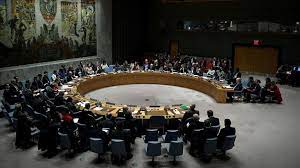 On 1st December, India assumed the monthly rotating presidency of the UN Security Council (UNSC) for the second time in its two-year tenure as an elected member of the Council in 2021-22.
India has served seven times in the UN Security Council as a non-permanent member and in January 2021, India entered the UNSC for the eighth time.
India has been advocating a permanent seat in UNSC.
Each member of the Security Council has one vote. Decisions of the Security Council on matters are made by an affirmative vote of nine members including the concurring votes of the permanent members.
A "No" vote from one of the five permanent members blocks the passage of the resolution
India will hold a "high-level open debate" on "Maintenance of International Peace and Security: New Orientation for Reformed Multilateralism (NORMS)" at the Security Council.
The NORMS envisages reforms in the current multilateral architecture, with the UN at its centre, to make it more representative and fit for purpose.
The other signature event planned is the high-level briefing on the theme "Threats to International Peace and Security Caused by Terrorist Acts: Global Approach to Counter Terrorism — Challenges and Way Forward".
This briefing intends to underscore the necessity of collective and coordinated efforts to combat the menace of terrorism.
UNSC:
The Security Council was established by the UN Charter in 1945. It is one of the six principal organs of the United Nations.
The other 5 organs of the United Nations are—the General Assembly (UNGA), the Trusteeship Council, the Economic and Social Council, the International Court of Justice, and the Secretariat.
The UNSC, with a mandate to maintain international peace and security, is the centrepiece of global multilateralism.
The Secretary-General is appointed by the General Assembly, on the recommendation of the Security Council.
The UNSC and UNGA jointly elect judges to the International Court of Justice.