US Open 2023: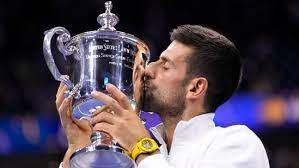 Novak Djokovic of Serbia wins his 24th Grand Slam title at the US Open 2023, defeating Daniil Medvedev of Russia.
He moved ahead of Serena Williams to claim the record for the most major singles titles won in the Open era.
Grand Slam tournaments, also called majors, are the four most important annual tennis events.
The Grand Slam itinerary consists of the Australian Open in mid-January, the French Open from around late May to early June, Wimbledon in June–July, and the US Open in August–September.
The Australian and United States tournaments are played on hard courts, the French on clay, and Wimbledon on grass.