UN Peacekeepers: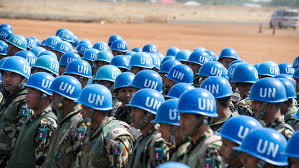 A total of 836 troops from the Indian Army serving with the UN peacekeeping mission in South Sudan have been awarded the United Nations medal for their services to ensure durable peace in the world's youngest country.
The civilian, police and military personnel from 73 countries serving with the United Nations Mission in South Sudan (UNMISS) are responsible for protecting civilians, creating conditions conducive to the delivery of humanitarian aid, supporting the implementation of a revitalised peace agreement, and monitoring and investigating human rights.
United Nations Peacekeeping is a joint effort between the Department of Peace Operations and the Department of Operational Support.
Every peacekeeping mission is authorized by the Security Council.
The financial resources of UN Peacekeeping operations are the collective responsibility of UN Member States.
According to the UN Charter, every Member State is legally obligated to pay their respective share for peacekeeping.
UN peacekeepers (often referred to as Blue Berets or Blue Helmets because of their light blue berets or helmets) can include soldiers, police officers, and civilian personnel.
Peacekeeping forces are contributed by member states on a voluntary basis.
Civilian staff of peace operations are international civil servants, recruited and deployed by the UN Secretariat.
UN peacekeeping is a unique global partnership.
It brings together the General Assembly, the Security Council, the Secretariat, troop and police contributors and the host governments in a combined effort to maintain international peace and security.
Its strength lies in the legitimacy of the UN Charter and in the wide range of contributing countries that participate and provide precious resources.