Visva-Bharati University : To Get UNESCO Heritage Tag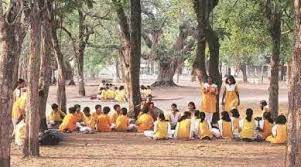 Visva-Bharati University will soon get the 'heritage' tag from UNESCO to take the distinction of world's first living heritage university.
Visva Bharati university is one of India's major Central Government funded autonomous university located in Santiniketan, West Bengal.
It is well-known as a distinguished centre for Visual Art practice and research in India.
The university was established in 1921 by Nobel Prize Laureate, Rabindranath Tagore.
It was named after Nobel Laureate Rabindranath Tagore until Visva-Bharati Society was registered as an organisation in May 1922.
The institution was given the status of Central University in 1951 through a central Act.
Its first vice-chancellor was Rathindranath Tagore, the son of Rabindranath Tagore, and the second vice-chancellor was grandfather of another Nobel Laureate economist Amartya Sen.
The President of India appoints the Vice-chancellor of the University.
Visva Bharati University is renowned for its cultural festivals called Poush Mela and the Basanta Utsab which attracts a number of artisans from all across the country.