Ramappa Temple: Telangana's First UNESCO World Heritage Site: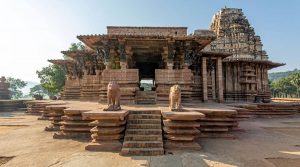 Telangana's Ramappa Temple is receiving massive focus after it received UNESCO tag recently.
About the Temple:
Situated in Telangana's Warangal, the temple stands on a six-feet high star-shaped platform with walls, pillars and ceilings adorned with intricate carvings that attest to the unique skill of the Kakatiyan sculptors.
The temple is named after its architect, Ramappa.
Constructed in 1213 AD during the reign of the Kakatiya Empire by Recharla Rudra, a general of Kakatiya king Ganapati Deva.
The temple's presiding deity is Ramalingeswara Swamy.