Pitch-Siding: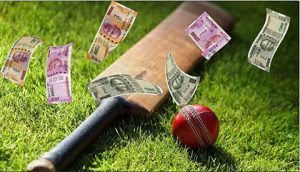 During a match in the Indian Premier League (IPL), the Board of Control for Cricket in India's (BCCI) Anti-Corruption Unit nabbed two individuals for allegedly pitch-siding or court-siding.
Pitch or court-siding is having somebody inside a sports venue and passing on immediate match-related updates to a bookie, who can use that information to change the odds and accept or reject bets.
The few seconds of lag it takes to be aired on television gives them the window of opportunity.
Though pitch-siding doesn't necessarily count as 'match fixing' as none of the action is rigged, it is a side-effect of competitive betting that sports organizers have been aiming to quell.
It is illegal not in all countries.
Court-siding is not illegal in the UK, nor in New Zealand.
However, tickets to most sporting events have it mentioned that it is illegal in the 'terms and conditions section.
Therefore, an individual caught has breached a condition of entry at the venue and can be evicted and banned.
In India, betting is banned, therefore, any act of pitch-siding would be considered illegal.