Exercise Pitch Black: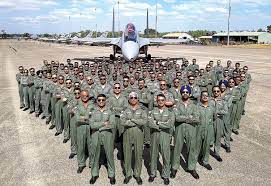 Indian Force will join 16 other nations later this month for Exercise Pitch Black, hosted by the Australian Air Force.
It's a biennial exercise to enhance interoperability and strengthen relationships among participants.
It will provide Indian Air Force a unique opportunity to exchange knowledge and experience with these nations in a dynamic warfare environment.
It provides all nations' personnel with experience in working with aircraft, systems, and work practices, in northern Australia's unique environment, that would otherwise be unfamiliar.
It will take place in the Southern hemisphere which is hosted by the Royal Australian Air Force (RAAF).
The participants nations this year are Australia, Canada, France, Germany, Indonesia, India, Japan, Malaysia, Netherlands, New Zealand, the Philippines, South Korea, Singapore, Thailand, UAE, the U.K, and the U.S.