Prompt Corrective Action Framework: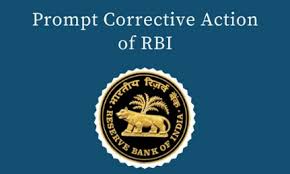 The Reserve Bank of India has taken IDBI Bank Ltd out of its prompt corrective action list after it found the state-run lender was not in breach of the central bank's parameters.
IDBI Bank was placed under the so-called PCA framework in 2017 over its high bad loans and a negative return on assets, at a time when Indian lenders battled record levels of soured assets, prompting the RBI to tighten thresholds.
Now, the bank has provided a written commitment that it would comply with the norms of minimum regulatory capital, Net NPA and Leverage ratio on an ongoing basis and has apprised the RBI of the structural and systemic improvements that it has put in place which would help the bank in continuing to meet these commitments.
Prompt Corrective Action (PCA):
PCA is a framework under which banks with weak financial metrics are put under watch by the RBI.
The RBI introduced the PCA framework in 2002 as a structured early-intervention mechanism for banks that become undercapitalized due to poor asset quality, or vulnerable due to loss of profitability.
It aims to check the problem of Non-Performing Assets (NPAs) in the Indian banking sector.
The framework was reviewed in 2017 based on the recommendations of the working group of the Financial Stability and Development Council on Resolution Regimes for Financial Institutions in India and the Financial Sector Legislative Reforms Commission.