Wind Energy: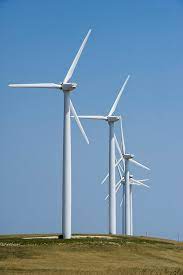 Annual installation of new wind power projects in India will peak by 2024 and likely decline thereafter, according to a report released by the Global Wind Energy Council (GWEC) and MEC+, a consulting firm that specialises in renewable energy.
As part of its transition away from fossil fuels, India has committed to sourcing half its electricity in 2030 from non-fossil fuel sources and installing 60 gigawatt (GW, or 1000 MW) of wind power by 2022.
So far, only 40 GW of wind power capacity has been established.
Wind industry installations have been slowing down in India since 2017.
Only 1.45 GW of wind projects were installed in 2021 with many delayed due to the second wave of COVID-19 and supply chain-related disruptions.
To compensate, the Ministry of New and Renewable Energy (MNRE) granted a blanket timeline extension for seven-and-a-half months after the scheduled commissioning date (SCD) for projects with power purchase agreements (PPAs) signed before June 2021, which pushed the SCD of 0.7 GW projects to 2022.