Ground Station Of India-Bhutan Satellite : Inaugurated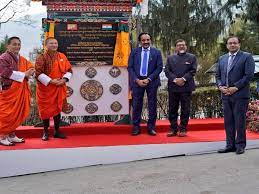 The ground station of the India-Bhutan Satellite, which has been built in Thimpu, was recently inaugurated.
India-Bhutan Satellite is also known as the ISRO Nano Satellite 2 for Bhutan (INS-2B).
It was launched as a payload on ISRO's PSLV C54 rocket on November 26, 2022.
It has been jointly developed by scientists from both countries.
The satellite contains two payloads:

NanoMx multispectral optical imager: It is developed by India's Space Applications Centre (SAC). It will provide high-resolution images to Bhutan for its natural resources management.
Automatic Packet Reporting System (APRS) repeater: It is jointly developed by Department of Information Technology and Telecom (DITT) Bhutan and ISRO's UR Rao Satellite Centre (URSC) to serve the amateur radio community, relaying realtime information about the region.