Third Phase Of The eCourts Projects: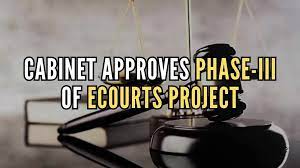 The Union Cabinet recently approved the third phase of the eCourts Projects with a budget allocation of ₹7,210 crore.
The eCourts Project was conceptualised on the basis of the "National Policy and Action Plan for Implementation of Information and Communication Technology (ICT) in the Indian Judiciary – 2005" submitted by eCommittee, Supreme Court of India, with a vision to transform the Indian Judiciary by ICT enablement of Courts.
E-committee is a body constituted by the Government of India in pursuance of a proposal received from the Hon'ble the Chief Justice of India to constitute an eCommittee to assist him in formulating a National Policy on computerisation of the Indian Judiciary and advise on technological communication and management-related changes.
It is a Pan-India Project, monitored and funded by the Department of Justice, Ministry of Law and Justice, Government of India for the District Courts across the country.
The Project envisages:

To provide efficient and time-bound citizen-centric service delivery.
To develop, install and implement decision support systems in courts.
To automate the processes to provide transparency in accessibility of information.
To enhance judicial productivity, to make the justice delivery system affordable, accessible, cost-effective, predictable, reliable and transparent.
The Phase III :
The Phase III of the centrally sponsored project – to be implemented over four years – will see the digitisation of entire court records, both legacy and pending cases, at an estimated cost of ₹2,038.40 crore.
It seeks to spruce up the digital infrastructure of courts by setting up 2500 new modern, virtual-friendly courts, establishment of 1150 virtual courts, and 4,400 eSewa kendras in all court complexes.
Around 3,108 crore documents will be digitised as part of the project.