56th DGsP/IGsP Conference: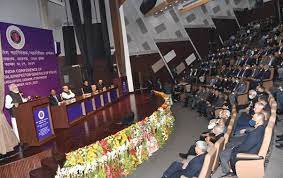 Prime Minister Modi attended the 56th DGsP/IGsP Conference at Lucknow on November 20-21, 2021. The Conference was attended by 62 DGsP/IGsP of States/UTs and DGs of CAPFs/CPOs in Lucknow.
He stressed on review of SMART Policing concept introduced in 2014 and suggested development of a roadmap for its continuous transformation and institutionalisation of the same in Police forces.
The Prime Minister also awarded the President's Police Medal for Distinguished Service to IB personnel. For the first time, as per the directives of the Prime Minister, IPS officers from various States had submitted articles on contemporary security issues, which added more value to the conference.
Earlier, the Conference was inaugurated by the Union Home Minister on November 19, 2021, wherein he had awarded trophies to the three-best Police Stations of the country.