13th-Century Hindu Temple Discovered: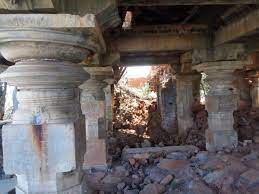 A 13th-century Hindu temple was discovered at Pushpagiri Kshetram in the Kadapa district.
13th century Hindu temple ruins have been unearthed amidst a shrub jungle northeast of the Durga temple, atop a hillock in the Pushpagiri Kshetram in Kadapa district, Andhra Pradesh.
The architectural features of the ruins reveal a style that is contemporary to a temple at Vallur, built by the Kayastha rulers.
The Kayasthas (1239 AD – 1297 AD) were subordinates to the rulers of the Kakatiya dynasty.
Pushpagiri is referred to as Hari-Hara Kshetra, as there are a number of temples dedicated to both Shiva and Vishnu.
It is located on the banks of the Pennar river.
Pushpagiri is also called the second Hampi due to its beautiful architecture.