Konark Sun Temple: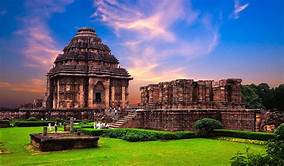 Visitors to the Sun Temple in Konark, Odisha, will soon be able to see the newly carved stones on the northern side of the jagmohan, or the assembly hall, of the World Heritage Site.
The pilot project started in 2019 with a study of the stones at the temple and an analysis of the historic drawings and photos from the 19th century onwards.
Starting in 1901, the British government had placed plain stones across the site and filled the jagmohan with sand to preserve the structure of the 13th century temple.
The Archaeological Survey of India (ASI) carried out conservation works after the site was handed over to it in 1936.
According to the National Conservation Policy (2014), Restoration may be undertaken on monuments with high architectural value and only in parts of a monument wherein there are missing geometric or floral patterns, or structural members of a monument which have been damaged recently.
Konark Sun Temple is a 13th-century CE Sun temple at Konark about 35 kilometres (22 mi) northeast from Puri city on the coastline in Puri district, Odisha.
The temple is attributed to king Narasimhadeva I of the Eastern Ganga dynasty about 1250 CE.