Martand Sun Temple: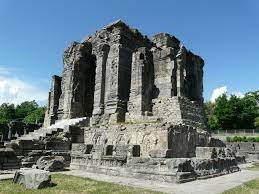 A controversy has erupted over a puja ceremony attended by Jammu and Kashmir Lieutenant Governor Manoj Sinha at the premises of the Archaeological Survey of India (ASI)-protected Martand Sun temple in Anantnag, with the ASI claiming that it was in violation of rules.
ASI argues that as per Ancient Monument Protection Act (ASI) rules, a prior permission was supposed to be sought.
The eighth-century Martand Temple is one of the oldest sun temples in India and a symbol of invaluable ancient spiritual heritage.
Built by Lalitaditya Muktapida in the 8th Century AD, the Martand Sun Temple is said to have been an excellent specimen of Kashmiri architecture and one of the holiest shrines for the Kashmiri Pandits.
The temple was destroyed by Sikandar Shah Miri in the 14th Century AD and the ruins are now marked as a "site of national importance" by the Archaeological Survey of India.