18th UIC World Security Congress: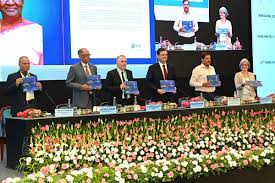 The 18th UIC World Security Congress, organised by the Railway Protection Force (RPF) and the International Union of Railways (UIC), ended with the adoption of the Jaipur Declaration.
The declaration highlighted the commitment of UIC to work towards providing a more safe and secure rail network across the globe, by also fully activating the Asia-Pacific, Latin America and African regional assemblies by 2025.
It called for the adoption of new technologies such as Artificial Intelligence 5G, IoT among others to develop comprehensive solutions for Railway Security.
The UIC (Union International Des Chemins) or International Union of Railways established in 1922 is headquartered in Paris.
It is the worldwide professional association representing the railway sector for research, development & promotion of rail transport.