SARTHAQ: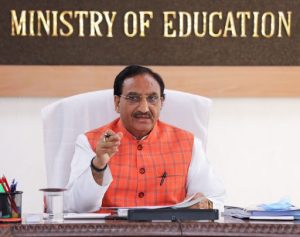 Recently, the education minister released an indicative and suggestive implementation plan for school education called SARTHAQ.
Launched in pursuance of the goals of NEP2020 and to assist States/UTs in this task.
The programme aims at providing an all-around development for the students at the primary and secondary level.
It will also establish a safe, secure, inclusive and conducive learning environment for students as well as teachers.
The major focus is to define activities in such a manner which clearly delineate goals, outcomes and timeframe i.e., it links recommendation of NEP with 297 Tasks along with responsible agencies, timelines and 304 outputs of these tasks."
The plan is being implemented to meet the following aims of NEP 2020:
It will pave way for curriculum reforms including new national and state curriculum frameworks for school education as well as early childhood care and education.
The programme will focus on the improvement of the enrollment ratio of children at all levels and a reduction in dropouts and out of school children.
It will provide access to quality ECCE and Universal Acquisition of Foundational Literacy and Numeracy by Grade 3.
It will implement vocational education, sports, arts, knowledge of India, 21st-century skills, values of citizenship, awareness of environment conservation in the curriculum.
It will focus on experimental learning.
It will also improve the quality of Teacher Education Programmes.