World Spice Congress 2023: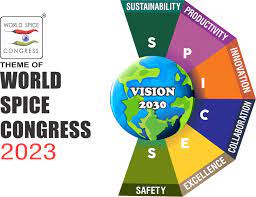 The Secretary to the Spices Board of India said that World Spice Congress 2023 will be held in Mumbai from 16-18 February 2023.
Theme : VISION 2030: S-P-I-C-E-S (Sustainability, Productivity, Innovation, Collaboration, Excellence and Safety).
Policymakers, regulatory authorities, spice trade associations, government officials as well as technical experts from key G20 countries will participate in the event.
Maharashtra has been chosen as a venue because
It is one of the leading states producing spices. It is the largest producer of turmeric in India.
Maharashtra produces two GI-tagged turmeric varieties and one GI-tagged chilli variety. Coastal areas of Maharashtra are also known for the production of GI-tagged Kokum.
Spices Board was constituted on 26th February 1987 under the Spices Board Act 1986 with the merger of the erstwhile Cardamom Board (1968) and Spices Export Promotion Council (1960).
It is functioning under the Ministry of Commerce & Industry.
World Spice Congress:
It was planned and conceived in 1990 as a forum for discussion and interaction between the importers and exporters of spices.
Since its inception it has been Organized under the leadership of the Spices Board, Ministry of Commerce and Industry, Government of India.