XV World Forestry Congress: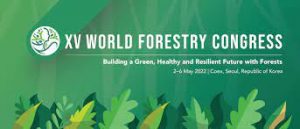 The Seoul Forest Declaration was an outcome of the discussions held at the recently concluded XV World Forestry Congress in Seoul, South Korea.
This was the second congress held in Asia, with Indonesia hosting the first Congress in Asia in 1978.
Outcomes of XV World Forestry Congress:

The Assuring the Future of Forests with Integrated Risk Management (AFFIRM) Mechanism.
The Sustaining an Abundance of Forest Ecosystems (SAFE) initiative.
World Forestry Congress:
The World Forestry Congress is held approximately once every six years.
The first Congress was held in Italy in 1926.
The Food and Agriculture Organization (FAO) has helped host countries organize the Congress since 1954.
Responsibility for the organization and financing of each Congress lies with the host country.
Theme for 2022: Building a Green, Healthy and Resilient Future with Forests.
The Congress is not an intergovernmental meeting; it has no formal constituencies nor country delegations.
The Congress is a forum for the exchange of views and experiences on all aspects of forests and forestry, which may lead to the formulation of broad recommendations applicable at national, regional and global levels.
Seoul Forest Declaration:
It identifies priority areas with potential to lead to a green, healthy and resilient future.
It urges that responsibility for forests should be shared and integrated across institutions, sectors and stakeholders.
Investment in forest and landscape restoration globally needs to triple by 2030.
Move towards a circular bioeconomy and climate neutrality.