The 12th Round Of India-China Corps Commander Level Meeting: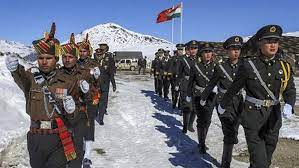 The 12th round of India-China Corps Commander Level Meeting was held at the Chushul-Moldo border meeting point on the Indian side.
The two sides had an in-depth exchange of views on resolution of remaining areas related to disengagement along the Line of Actual Control in the Western Sector of India-China border areas.
Both sides had undertaken partial disengagement from Patrolling Points (PP) 15 and 17A in Gogra and Hot Springs last July after disengagement from PP14 in Galwan, but the process was stalled after the aggressive actions on the south bank of Pangong Tso in August.
Chushul or Spanggur Gap is in the Leh district of the Indian state of Ladakh region.
The meeting point is named after the nearby town (Chushul) or the mountain pass (Spanggur Gap).