5th World Congress On Disaster Management: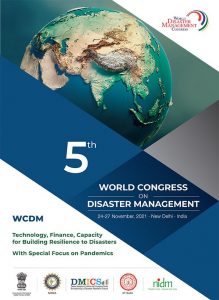 Raksha Mantri Rajnath Singh virtually inaugurated the 5th World Congress on Disaster Management on November 24, 2021.
The 5th World Congress on Disaster Management (WCDM) is being organised in New Delhi between November 24-27, 2021 at the campus of IIT Delhi on the overarching theme of 'Technology, Finance and Capacity for Building Resilience to Disasters in the context of COVID-19'.
It is an initiative of Disaster Management Initiatives and Convergence Society (DMICS) having its headquarter in Hyderabad to bring researchers, policy makers and practitioners from around the world on the same platform to discuss various challenging issues of disaster risk management.
The aim is to promote interaction of science, policy and practices to enhance understanding of risks and advance actions for reducing risks and building resilience to disasters.