Sagol Kangjei : Ancient Polo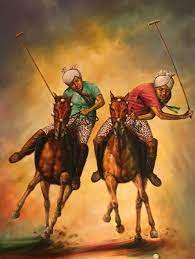 Home Minister inaugurated a 122-foot-tall statue of a polo player astride a Manipur Pony in Imphal.
Modern polo is said to have originated from Sagol Kangjei, a sport indigenous to Manipur, in which players ride horses, specifically the Manipur Ponies, which are referenced in records dating back to the 14th century.
Marjing is considered the God of polo and features a pony as his carrier.
The Lai-Haraoba festival of the state depicts the life and times of Khori-phaba, the polo-playing god of sports.
The Manipur Pony is one of five recognised equine breeds of India and has a powerful cultural significance for Manipuri society.
The Marjing Polo Complex has been developed as a way to conserve the Manipur Pony.