Bihar Lokayukta (Amendment) Bill, 2021: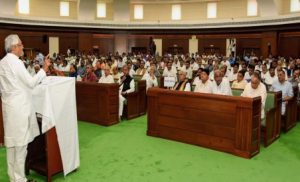 The Bihar Assembly passed the Bihar Lokayukta (Amendment) Bill, 2021 that proposes to punish people filing false cases before the anti-corruption ombudsman body to prevent any waste of time or misuse of the institution.
Lokayukta carries out expeditious investigation and prosecution relating to allegations involving corruption against public servants of all grades.
The proposed legislation has been brought keeping in view the misuse of the Lokayukta institution in false cases.
It was proposed by the Lokayukta itself that there should be a provision for punishing people filing false cases before it. The Lokayukta acts of other States have the provision of punitive action against such erring persons.
The Bill proposes that a case against a person filing a false case can be filed in the district court.
If the person is found guilty of it or for giving false testimony or filed wrong affidavit, he/she will be sentenced to a jail term of upto three years besides a provision for fine.