75th Session Of World Health Assembly: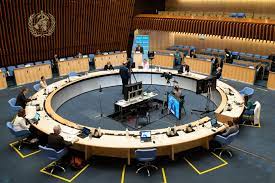 World Health Assembly's 75th session is being held at World Health Organization (WHO) Headquarters (HQ), Geneva from 22nd to 28th May, 2022.
Union Minister of Health and Family Welfare emphasized upon India's commitment towards building a more resilient global health security architecture.
Health for peace, peace for health is the theme of the World Health Assembly, 2022.
India's six Accredited Social Health Activists (ASHA) workers were awarded the Global Health Leaders Award at the ongoing 75th World Health Assembly to recognize their "outstanding contributions to advancing global health, demonstrated leadership, and commitment to regional health issues."
Key Features of the Union Minister's address at the 75th Session:
Streamlining of the WHO's approval process for vaccines and therapeutics is needed to have a more resilient global health security architecture.
An equitable access to vaccines and medicines should be allowed including the intellectual property aspects.
Cost-effective research, technology transfer and regional manufacturing capacities must be on the priority list.
As per WHO, 4.7 million Covid deaths (10 times the official figure) have been reported in India.
Therefore, concern over WHO's recent exercise on all cause excess mortality on account of Covid-19 was expressed.
India urged WHO to consider the country-specific authentic data published through the Civil Registration System (CRS) by the Registrar General of India (RGI).
The use of mathematical models of data prediction shouldn't be relied upon. Consequently, the Central Council of Health and Family Welfare (set up under Article 263 of the Constitution) passed a unanimous resolution condemning WHO's approach in this regard.
World Health Assembly:
World Health Assembly (WHA) is WHO's decision-making body attended by delegations from all of WHO's member states.
It is held yearly at the HQ of WHO, i.e., Geneva, Switzerland.
Specific health agenda prepared by the Executive Board remains the focus of this assembly.
Since the start of the Covid-19 pandemic, 2022's assembly is the first in-person assembly.
Functions of WHA:

Deciding on Organization's policies.
Appointment of the Director-General of WHO.
Administration of financial policies.
Review and approval of the proposed programme budget.