Operation Dost: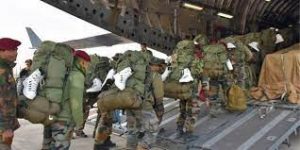 India, under 'Operation Dost' has sent its sixth plane carrying National Disaster Response Force (NDRF) personnel, essentials, and medical equipment for the earthquake-hit Turkey.
The 6th flight carries more rescue teams, dog squads, and essential medicines.
A field hospital under Operation Dost has been set up by the Indian Army in Hatay province of Turkey.
India has also sent a transport aircraft with medical supplies to Syria.
The earthquake of magnitude 7.7 on the Richter scale hit Turkey and Syria on 6 Feb 2023 followed by a series of aftershocks causing huge devastation, major loss of lives and damage to infrastructure in the two countries.