7th National Health Accounts : Estimates For India (2019-20)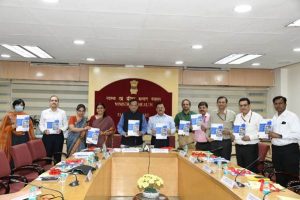 The Ministry of Health and Family Welfare has released the 7th National Health Accounts (NHA) Estimates for India (2019-20), which was produced by the National Health Systems Resource Centre.
The NHA estimates are prepared by using an accounting framework based on the internationally accepted System of Health Accounts 2011, provided by the World Health Organization (WHO).
Key Highlights:
The share of OOPE in total health expenditure has declined from 62.6% in 2014-15 to 47.1% in 2019-20.
OOPE is the money paid directly by households, at the point of receiving health care.
This occurs when services are neither provided free of cost through a government health facility, nor is the individual covered under any public or private insurance or social protection scheme.
GHE's share in the country's total GDP increased from 1.13% (2014-15) to 1.35% (2019-20).
Government Health Expenditure (GHE) GHE constitutes spending under all schemes funded and managed by Union, State, and Local Governments including quasi-Governmental organizations and donors in case funds are channeled through Government organizations. health system as a low Government.
In GGE the share of health sector spending has steadily increased from 3.94% to 5.02% between 2014-15 and 2019-20.
General Government Expenditure (GGE) This is a proportion of the share of Government expenditures towards healthcare in the General Government Expenditures and indicates Government's priority towards healthcare.
In the Total Health Expenditure (THE) of the country between 2014-15 and 2019-20, the share of GHE has increased from 29% to 41.4%.
Total Health Expenditure (THE) constitutes current and capital expenditures incurred by Government and Private Sources including External funds.
The share of SSE on health has increased from 5.7% in 2014-15 to 9.3% in 2019-20.
Social Security Expenditure (SSE) includes government-funded health insurance, medical reimbursement to government employees, and social health insurance programs.
PHIE has increased from 3.4 % in 2013-14 to 7 % in 2019-20 estimates out of total Health Expenditure.
Private Health Insurance Expenditures (PHIE) constitute spending through health insurance companies where households or employers pay a premium to be covered under a specific health plan.
External/ Donor Funding for health increased from 0.3 % in 2013-14 to 0.5 % in 2019-20 out of total health expenditure.