International Day Of Yoga 2023 : 50-day Countdown Begun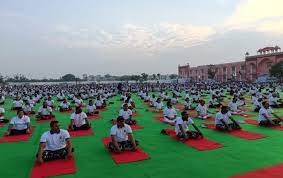 The 50-day countdown to International Yoga Day has begun at Shri Bhavani Niketan College in Jaipur, Rajasthan and Yoga Mahotsav is being celebrated to mark the occasion.
The Ayush Ministry is organising the event with active support and cooperation of the state government of Rajasthan, local authorities and various institutions with an objective to boost Medical Value Travel through Yoga.
This year, the Ministry of Ayush is also exploring the possibility of organising Common Yoga Protocol (CYP) demonstrations at important ports across globe covering all oceans and at all functional Health and Wellness Centres (HWCs) spread across the country and Ayush Gram in each state.
Yoga is the basic foundation of Indian culture which is the biggest medium of self-development.
Yoga's journey as an ancient Indian science of healing and exercise started somewhere in the Indus-Sarasvati civilisation in northern India.