9th Ministerial Meeting Of The India-US Economic And Financial Partnership: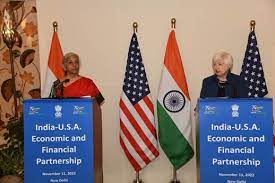 The 9th Ministerial meeting of the India-US Economic and Financial Partnership was held.
The Indian delegation was led by the Union Minister for Finance & Corporate Affairs and the USA delegation was led by the Treasury Secretary.
Key Highlights of the Meet:
Both countries shared the re-energized global efforts to increase climate ambition as well as respective domestic efforts to meet publicly expressed climate goals.
In the context of the conflict in Ukraine, both discussed the current headwinds to the global macroeconomic outlook including increased commodity and energy prices as well as supply side disruptions, and reemphasized their commitment to the central role of multilateral cooperation in addressing these global macroeconomic challenges.
They acknowledged the importance of working through MDBS to help India access and mobilize available financing to support development objectives, including climate action.
Both plan to continue engaging on these and other global economic issues multilaterally and bilaterally.
Both sides affirmed their commitment to debt sustainability, transparency in bilateral lending, and coordinating closely on extending fair and equal debt treatment to countries facing debt distress.
Both reiterated commitment to step efforts to implement the G20 Common Framework for Debt Treatment in a predictable, timely, orderly and coordinated manner.
Both agreed to mobilize USD 100 billion every year till 2025 from public and private sources for developing countries, in the context of meaningful mitigation actions and transparency on implementation.
The countries also discussed mutual collaboration in sharing of information to tackle offshore tax evasion.
The two sides will continue to engage in discussions relating to the Foreign Account Tax Compliance Act (FATCA) for sharing of financial account information.