19th ASEAN-India Summit: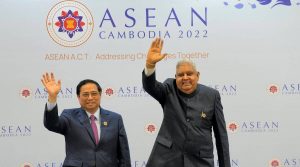 The Vice President of India attended the 19th ASEAN-India Summit in Phnom Penh, Cambodia.
Highlights of the Meeting
India hailed the deep cultural, economic and civilizational ties that have existed between India and South East Asia from time immemorial and stated that the India-ASEAN relationship forms the central pillar of India's ACT-EAST policy.
India reiterated its support to ASEAN centrality in the Indo-Pacific.
ASEAN and India adopted a joint statement announcing the elevation of the existing Strategic Partnership to Comprehensive Strategic Partnership.
It reiterated the commitment to enhance India-ASEAN cooperation in various areas such as maritime activities, counter-terrorism, cyber security, digital economy, environment, science & technology, tourism, among other areas.
It proposes expediting the review of ASEAN-India Trade in Goods Agreement (AITIGA) to make it more user-friendly, simple, and trade-facilitative.
Both sides reaffirmed the importance of maintaining and promoting peace, stability, maritime safety and security, freedom of navigation and overflight in the Indo-Pacific region.
As part of maintaining "ASEAN-Centrality", the two sides reaffirmed the importance of deepening dialogue and coordination through ASEAN-led mechanisms including the ASEAN-India Summit, the East Asia Summit, the Post-Ministerial Conference with India (PMC+1), the ASEAN Regional Forum (ARF), the ASEAN Defense Ministers' Meeting-Plus (ADMM-Plus), the Expanded ASEAN Maritime Forum (EAMF).
Association of Southeast Asian Nations:
It is a regional grouping that promotes economic, political, and security cooperation.
It was established in August 1967 in Bangkok, Thailand with the signing of the ASEAN Declaration (Bangkok Declaration) by the founding fathers of ASEAN, namely Indonesia, Malaysia, Philippines, Singapore and Thailand.