1st Global Tourism Investors Summit: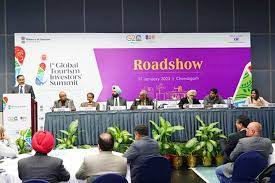 The Ministry of Tourism is organizing the 1st Global Tourism Investors Summit from 10th to 12th April 2023 at Pragati Maidan in New Delhi.
It is organised under the aegis of India's G20 Presidency.
The aim of the summit is to bring together global business leaders, and policymakers to understand and explore Tourism Business opportunities in India.
The event focused on promoting India as an investment destination for travel, tourism, and hospitality by identifying State-Specific investment possibilities and discuss avenues to promote sustainable tourism.