ASEAN-India Ministerial Meeting: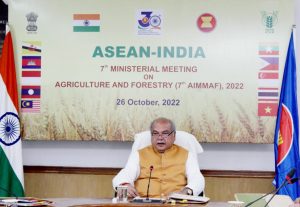 7th ASEAN-India Ministerial Meeting held on Agro-Forestry under the co-chairmanship of Union Agriculture Minister.
In the meeting, the progress in implementation of various programs and activities under the Medium Term Action Plan of ASEAN-India Cooperation (Year 2021-2025) was reviewed.
The meeting also welcomed the 30th anniversary of ASEAN-India relations.
The Association of Southeast Asian Nations (ASEAN):
It was established on 8 August 1967 in Bangkok, Thailand, with the signing of the ASEAN Declaration (Bangkok Declaration) by the Founding Fathers of ASEAN: Indonesia, Malaysia, Philippines, Singapore and Thailand.
Brunei Darussalam joined ASEAN in 1984, followed by Viet Nam in 1995, Lao PDR and Myanmar in 1997, and Cambodia in 1999, making up what is today the ten Member States of ASEAN.
India's relationship with ASEAN has emerged as a key cornerstone of our foreign policy.
The relationship has evolved from the 'Look East Policy' enunciated in early 1990s which led India to become a Sectoral Partner of ASEAN in 1992, a Dialogue Partner in 1996 and a Summit-level Partner in 2002.